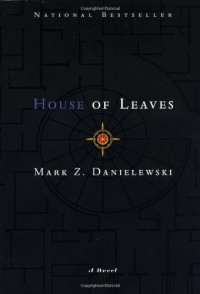 House of Leaves is the kind of story that loves to mess with your head a "little" bit. It doesn't have one storyline and one of the stories can be unreliable at times due to his increasing lack of sanity. I found myself spiralling downwards in a maze of subtle confusion as I continued through this novel. All of this may sound like a discredit to the novel but I absolutely loved it. Thought it was innovative as a book and a story.
A brief synopsis about what's going on:
Johnny Truant finds a suitcase with a manuscript in it, written by a friend's neighbour who is recently deceased.
The manuscript is a "non-fiction" analysis of a documentary that follows a family as they move into their new house and discover that it is bigger on the inside.
The Navidson Family become increasingly affected by the house and there are several explorations made to try and discover how big it really is and what is making that roaring noise.
Johnny Truant adds footnotes to the manuscript that depict a sort of life story as he makes his discovery of the manuscript.
The book has extensive footnotes and appendices and at some points takes an innovative approach at page space (as in a sentence might be backwards, upside down or spread across several pages)
I honestly don't know what I enjoyed the most about this book because there is just so much to love and appreciate.
The story may seem like a haunted house novel or a man's decline into insanity, either or, they were composed with such skill that made them seem believable and in a scary way, relatable. Even though Zampano was a silent character, his present is very much felt, especially in the poems and the bits he decided to try and cut out of the manuscript. Navidson was described and experienced in a very different way as well as his wife, Karen. I got to know them in a way I've never a character before due to the non-fiction approach to their story. Johnny Truant's parts were the scariest and definitely kept me thinking, especially his ending (which to be completely honest, I didn't quite understand it).
Because of the general non-fiction layout of this novel, I felt it lacked a necessary climax but that didn't really bother me because there was enough excitement to satisfy my preferences.
Absolutely amazing and I just loved the innovation in this book. It was a terrific treat to read.